.....
2313 Ravine St., Clifton
Cincinnati, Ohio 45219

Call for an appointment today:
(513)-621-7032

All of our apartments have:
private entrances
are within walking distance of The University of Cincinnati
are located on or near the busline campus.
laundry
Most of the apartments have:
central A/C
new kitchens
dishwashers
ceiling fans
off-street parking
Many also have parking, garages, city views, and decks.

Downloads:
Rental Application
Lease Agreement
Guarantor Application
Guarantor Agreement


LINK to Other Apartment Sites.
.....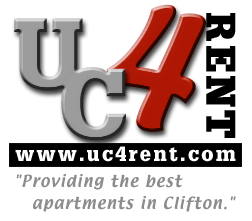 We specialize in the complete renovation of buildings.

We take pride in being the best landlord in the area for over 25 years.
.....